John Carroll Lynch, as Steve, Drew's brother on "The Drew Carey Show".
Personal Information
Gender:
Male
Occupation/
Career:
Clerk, Cosmetics Department, Winfred-Lauder Department Store, Cleveland, OH
Character
description:
Cross-dressing brother of Drew who falls in love with Drew's chief nemisis Mimi, eventually marrying her
Spouse(s):
Mimi Bobeck
Related to:
Drew Carey (brother)
Beulah Carey (mother)
George Carey (father, deceased)
King Carey (son, with Mimi)
Character information
Appeared on:
The Drew Carey Show
Episodes appeared in:
73 in Seasons 3-9
Character played by:
John Carroll Lynch
Steve Carey, Drew Carey's cross-dressing brother, is a main character who first appears in the Season 3 episode of The Drew Carey Show titled "Drew's Brother". The part of Steve is played on the series by John Carroll Lynch.
About Steve
Edit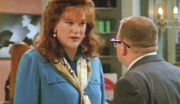 Drew's cross-dressing brother. He came to Cleveland and got a job in the cosmetics department at Winfred-Lauder. He fell in love with Mimi and after one season of dating they married in a ceremony in Drew's backyard, with Drew officiating along with an online minister from an Internet website. In later seasons the concept of Steve being a cross-dresser is abandoned entirely with little explanation (though it is hinted that he gave it up to make Mimi happy). He left, along with Kate and Wick, early in the eighth season.
External links
Edit
Ad blocker interference detected!
Wikia is a free-to-use site that makes money from advertising. We have a modified experience for viewers using ad blockers

Wikia is not accessible if you've made further modifications. Remove the custom ad blocker rule(s) and the page will load as expected.